Kandol Lake
Kandol lake is a magnificent and stunning lake in Swat, to the north of Utror valley. While driving through Ladu valley from Kalam, there is a link road that leads to Kandol lake. It takes two hour trekking to reach Ladu valley. Whereas a four-wheeled vehicle takes less time. The trek is fairly secure and tourists can enjoy the captivating natural landscape while trekking.
Utror Valley
Utror is a peaceful and beautiful valley with forests, mountains, a pleasant environment, a flowing river and, of course, the magnificent Kandol lake. The drive along the river takes around 15 to 20 minutes from the Utror bazar to the bridge. The two treks meet near the bridge. One leads to Ladu, while the other towards Kandol lake.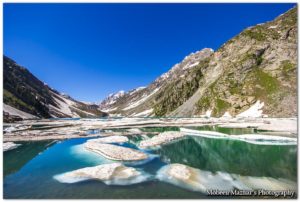 Trek Towards Kandol Lake
The trek to lake runs alongside to the river. This is a sandy and rocky stretch. It takes three to four hours to reach lake from the bridge. To avoid heat, start trekking early in the morning. Water is available along the trek. However, it is better to bring drinking water bottles with you. No food-corner may available along the route. Carry your food and snacks for energy boosting. In case of camping at Kandol, bring all the necessary equipments.
In the beginning, a sandy riverbank journey goes between clusters of trees and grassy-land with entwining streams. A small village on the other side is connected by a bridge. There are a few houses on the lush-green slopes in the mountain foothills and fields of potatoes. People use ice blocks or tree trunks to cross the streams.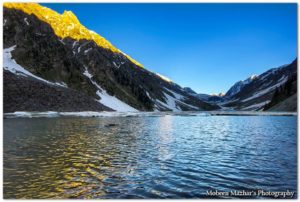 The trek to the lake is mostly uphill, following the mountain ridge. It is a muddy and narrow zigzag route of intense trekking. After half an hour, there is a dense forest, which is goof for hiking. The trail through the forest opens in a wide and rather deep gully. It is nearly impossible to access from the opposite side of the ridge. A trekker requires a subsequent hiking on the right side. A broader and flat path is clearly visible that leads to another valley along a tiny glacier. The glacier joins with the gully. After cautiously traversing the glacier, it takes 10 minutes to reach Kandol lake.
Kandol Lake
This is a big emerald green lake that is encircled by snow-capped mountains with grassy slopes combined with glacier water. The reflection of the adjacent mountains gives a spectacular view of the lake. The fresh breeze and pleasant temperature make the lake a must-see destination. It is an ideal location for camping. Tourists can wander and explore splendour of nature. They can even meditate in peaceful solitude.
Auhor: Fehmeeda Farid Khan