Lakes in Azad Kashmir
O Kashmir!
You the majesty, You the monarch….
You wins the hearts, You allure the minds!
Azad Kashmir is a lovely state in Pakistan, located to the north of Punjab and to the east of Khyber Pakhtunkhwa. Nature has generously gifted all four perfectly mixed seasons and a magnificent climatic atmosphere on our country. Many astoundingly distinct characteristics are combined in a place that is genuinely a spectacular phenomena in the globe. All of the visitors are praising the creator. There are tall mountains, huge plains, high altitude verdant meadows, thick woods, meandering rivers, entwining springs, melodious waterfalls, mysterious lakes, and it all follows the heavenly route. In this page, I shall attempt to provide more useful information on Azad Kashmir's famous lakes.
Baghsar Lake
3,199 feet (975 metres)
Samahni Valley, Bhimber
Baghsar is a lovely lake located 975 metres (3,199 feet) above sea level in the Samahni valley in Azad Kashmir's Bhimber District. The lake is a renowned tourist destination with a surface area of half a kilometre that overlooks the Bandala valley. Baghsar is 12 kilometres East of Samahni town, while Jhandi Chontra is also 12 kilometres away. It is an ideal habitat for both local and migratory birds, with a high concentration of ducks and geese. The hills and pine trees surround the lake. Furthermore, there are numerous water lily flowers floating on the surface of the lake.
Tourists can also visit the Baghsar Fort, which is located on a hill overlooking the lake and dates back to the Mughal era. The mediaeval fort's four-storey granite building alludes to the periods of Ahmed Shah Abdali, Ranjit Singh and Maharaja Gulab Singh. Mughal Emperor Jehangir is claimed to have become unwell while returning from the Kashmir valley and died at the fort.
Baghsar Lake < Bhimber < 162 Kilometres < Islamabad < 3 Hour-10 Minute
Banjosa Lake
6,499 feet (1,981 metres)
Rawalakot, Poonch
Banjosa Lake is located in the Poonch district of Azad Kashmir. This artificial lake is a popular tourist destination. Lake is only 20 kilometres (12 miles) away from Rawalakot. Its elevation is 6,499 feet (1,981 metres) above sea level. The lake is bordered by mountains and dense forests of pine trees, which adds to its beauty and charm.
The weather in the area is cool even in the summers, with snowfall in winters, resulting in temperatures as low as -5 C°.
Accessibility
A metal road connects Rawalakot to Banjosa Lake. Public transport runs between the two locations on a daily basis.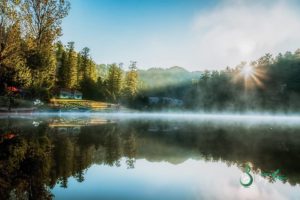 Accommodation is provided by the AJK Tourism and Archaeology Department, the Pakistan Public Works Department, and the Pearl Development Authority. Various private Hotels, Guest Houses, and Tuck Shops are also available. Tourists can visit a market in Chhota Gala town, which is only a kilometre (0.62 mile) away from Banjosa. Almost all GSM operators are active in the area.
Banjosa Lake < Rawalakot < 114 Kilometres < 3 Hour – 5 Minute < Islamabad
Saral Lake
13,600 feet (4,100 metres)
Surgan, Neelum Valley
We appropriately call Neelum valley "the valley of lakes" since there are numerous lakes in the valley. Many of which have yet to be explored. The lake is one of the most beautiful lakes in the valley, lying at an elevation of 13,600 feet (4,100 metres) above sea level.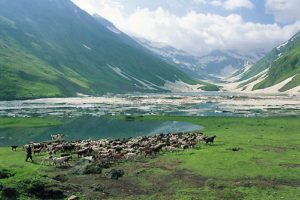 There are three ways to get to the lake.
The lake is accessible from Sharda through a Jeep track and two-day trekking from Surgan Pass.
The second route takes you along Jalkhad Noori-Nar track to Jabba Gali Top. Because it is a jeep road, it is a relatively easy route. The Jabba Gali route takes only 2 to 3 hours to reach the

lake.

The third route is through Dudipatsar Lake, which takes 5 hours to reach.
Saral Lake < Neelum Valley < Neelum Road < Muzaffarabad < 125 Kilometres < 3 Hour – 10 Minute < Islamabad
Subri Lake
2,417 feet (737 metres)
Langerpura, Muzaffarabad
Subri lake (also known as Langarpura lake) is located 10 kilometres (6 miles) South of Muzaffarabad, the capital of Azad Kashmir. The lake originated within the Jhelum River at Subri. It was nearly vanished due to previous extreme flooding. It was a lovely lake, fed by the Jhelum River. The lake was located along the Jhelum valley route, only a distance of 10 minute from Muzaffarabad. No hiking requires to get there.
Islamabad < 125 Kilometres < Muzaffarabad < Langerpura < 10 Kilometres < 10 Minute Drive < Subri Lake
Shounter Lake
10,200 feet (3,100 metres)
Shounter, Neelum Valley
Shounter is another lovely lake in Neelum Valley. This spoon-shaped lake is located in Shounter valley, which links to Neelum valley. It lies 10,200 feet (3,100 metres) above sea level. The source of the inflow is glacial water from the neighbouring snowy mountains. Tourists can view lush green stretches of grasslands with an abundance of Iris. A jeep track leads through Kel to the lake.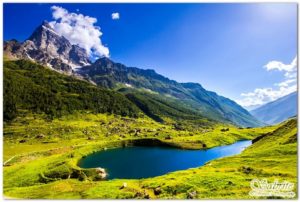 Shounter Valley is best visited between May and August, as it remains snow-capped for rest of the year. The Jeep route is only accessible during the summer months, otherwise trekking is the only option to get there.
Tourists can reach Naran from Sharda via Noori-Nar Top. They can take advantage of the thrilling opportunity to hike across the Shounter Pass from Shounter village to Astore valley in 2 to 3 days. This path can also be used to explore the Jagran and Baboon valley treks. Tourists can go from the Lower Neelum valley to Makra Basecamp. Then they can descend to Shogran from Bhairi in two days. Another route is from the Neela Pahar and Ganja Pahar on way to the Bhairi area of Neelum valley. Whereas Machiara National Park can also be explored. The Park was established to conserve the endangered wildlife species of the area.
Islamabad < 125 Kilometres < 3 Hour – 10 Minute < Muzaffarabad < Neelum Valley < Shounter Valley < Shounter Lake
Chitta Katha Lake
13,500 feet (4,100 metres)
Shounter, Neelum Valley
Chitta Katha lake is yet another treasure of Azad Kashmir's Shounter valley. It is 13,500 feet (4,100 metres) above sea level. Chitta Katha is a native name that translates to "white stream". The stream flows from Mount Hari Parbat called Chitta Katha Sar (lake). Some people perceive this mountain as sacred because of association with their Lord Shiva's dwelling and refer to it as Kailash.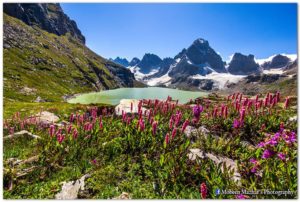 Kel serves as the base camp of many lakes and Shounter Valley is next to Kel. Trekking begins from Domel in Kel. If tourists ascend along with the Shounter Nullah (Ravine), they will locate a shortcut to the lake on their left hand side.
Though travellers may reach the lake in three hours, but it is a dangerous journey. Tourists normally take a little longer path to the lake, which takes around 8 hours of trekking. They generally prefer camping at Duk 1 for the overnight stay. Then they start trekking to the lake the next morning. Ascending from Duk I becomes a bit difficult. Tourists can complete the trekking to Chitta Katha in a day and return to Domel Bala at night.
Islamabad < 125 Kilometres < 3 Hour – 10 Minute < Muzaffarabad < Neelum Valley < Shounter Valley < Chitta Katha Lake
Ganga Sar (Lake)
9,652 feet (2,942 metres)
Ganga Choti, Bagh
The allure and attraction of Ganga Choti in Bagh District is known as Ganga Lake or Ganga Sar. It is a high altitude lake, 2,942 metres (9,652 feet) above sea level. It is located in the Pir Panjal Mountain Range, a sub-range of the Himalayan Mountain Range. The lake is accessible from Bagh through a Jeepable track.
Islamabad < 147 Kilometres < Bagh < 3 Hour – 32 Minute < Ganga Choti < Ganga-Sar (Lake)
Zalzal Lake
5,997 feet (1,828 metres)
Chikar, Jhelum Valley
This lake is the result of the earthquake of 2005. It was formed when large landslides obstructed the course of the river, inundating five villages and causing major harm to the surrounding area. Following that, a spillway was built to allow for a smooth exit of water.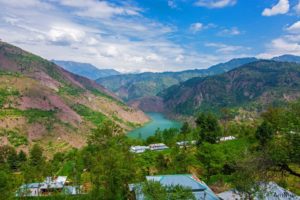 The lake is located in Lodhi-abad, near Chikar. It is approximately 46 kilometres South of Muzaffarabad. A metal road leads from Dhanni Baqallan, a small and lovely village. It is nearly 33 miles from Muzaffarabad. Chikar is summer hill station of Azad Kashmir with an elevation of 5,997 feet (1,828 metres) above sea level.
The main feature of this lovely location is its mild summer climate and scenic beauty. Tourists can enjoy a breathtaking view of the adjacent sub-valleys.
Islamabad < 125 Kilometres < 3 Hour – 10 Minute < Muzaffarabad < 46 Kilometres < Chikar < Lodhi-abad < Zalzal Lake
Hans Raj Lake
Hans Raj lake is another picturesque lake in the Neelum valley that visitors can reach via Ratti Gali lake. The tourist season runs from mid-June to mid-September. There are three routes to Ratti Gali and Hans Raj Lakes.
Dowarian to Neelum Valley
Burwai to Kaghan Valley
Jalkhad to Kaghan Valley
The First Trek
Jalkhad (Noori-Nar Top) < Dowarian < Noori Lake < Hans Raj Lake < Ratti Gali
Naran to Jalkhad
From Naran, it takes around 2 hours to reach Jalkhad by a jeep or van. Tourists can hire Jeeps, Porters or Guides from Jalkhad, the starting point of the Noori-Nar Top.
Jalkhad to Noori-Nar Top
It may take up to three hours to reach Noori-Nar Top. It's only a 17 kilometre journey from Jalkhad.
Noori-Nar Top to Noori Lake
The trek has been divided into two sub-treks which proceed in opposite directions. One leads to Noori Lake, while the other leads to Ratti Gali Pass.
Noori Lake to Hans Raj Lake
It takes around half an hour to hike to the starting point from the Ratti Gali Pass, which can take up to two hours to cross. The journey to the Shounter Pass (Top) begins after crossing the Pass. From the Shounter Top tourists may view the deep bluish Hans Raj lake. Another hour of hiking is required to reach Hans Raj Lake from there.
When the journey back home begins, it is a somewhat steep slope towards Dowarian.
Hans Raj Lake < Dowarian < Sharda < Athmuqam < Muzaffarabad < 125 Kilometres < Islamabad < 3 Hour – 10 Minute
Author: Fehmeeda Farid Khan