Neelum Valley
Shounter is located in Neelum valley which is to the north and north-east of muzaffarabad. The elevation of the valley is 4,000 metres (13,123 feet) above sea level. It lies along the bank of the meandering river Neelum. Tourists can enjoy agnificent scenery, breathtaking splendour, a panoramic vista, and sky scraping hills along the road. The lush green dense forests, lovely streams and spellbinding surroundings make it a top tourist destination. The valley extends its majestic treasure like a Heaven on Earth. Neelum valley has multiple sub-valleys, all of which are equally magnificent and superb.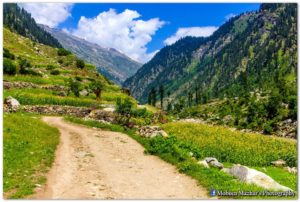 Shounter Valley
The Shounter is a part of upper Neelum valley. Tourists can get there through a jeep track from Kel, which is operational for a few months of the year. Shounter Pass lies at an elevation of 4,420 metres (14,501 feet) above sea level. There is a small but picturesque spoon-shape lake in the Shounter valley. The valley is basecamp for Sarwali Peak. It is also a crossing point for the Shounter Pass into Astore valley. The Top (Pass) opens into Astore valley from Rattu village.
Shounter Lake
Shounter is a well-known lake in the Shounter valley. The elevation of the valley is 10,200 feet (3,100 metres) above sea level. The source of the lake is inflow of glacial water from neighbouring snowy tops of the mountains. The lake reflects the peaks, vegetation and specimens of Iris hookeriana that give it a spectacular look. A jeep route leads from Kel, Neelum valley to the lake.
Accessibility
Best time to visit Shounter valley is between May and August. Otherwise it remains snow-covered most of the year. Tourists can access there by a Jeep route. The route is operational for four or five months during the summer. For rest of the year, trekking is the only alternate. The entire valley is famous for its lakes. The beauty and serenity is quite stunning.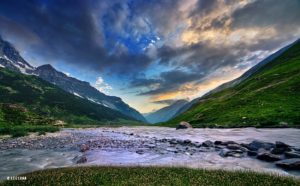 Routes and Treks
Tourists can reach Naran from Sharda via Noori-Nar Top. Ratti Gali, on the other hand, is another lovely lake. The journey to Ratti Gaii begins at Dowarian and ends in Naran. Tourists can approach Chitta Katha lake from Domel in the Neelum valley. They can travel from Shounter village to Astore valley in 2 or 3 days by crossing Shounter Pass. It is a less known region of the valley, yet it offers a promising experience to discover. Its beauty and charm are well described in travelogues. The best months for travelling are July and August.
Further Elaboration
There is another route from Jagran to Baboon valley. Tourists can travel to Makra and then go down towards Shogran on their way to Bhairi in two days. There is an additional trek from Bhairi that leads to the Neela Pahar and Ganja Pahar. Machiara National Park lies in the same which was established to safeguard the peculiar and precious endangered wild-life species.
Author: Fehmeeda Farid Khan