Pir Chanasi
When we travel in the North-East from Islamabad, on Murree Expressway and continue our journey on the Kohala-Muzaffarabad road, we are heading towards Pir Chinasi, Muzaffarabad, the capital of Azad Kashmir. It is at a distance of 125 kilometres (78 miles) from Islamabad, the capital city of Pakistan.
It takes three and half an hour to reach Muzaffarabad. Sloppy green hills, mountainous spots, natural lush valleys and zigzag tracks warmly welcome the visitors. Among so many serene places in Muzaffarabad, Pir Chinasi has a distinct impression. It appeals to tourists with its grassy lands, cool days and calm starry nights.
Popular Hill Station
Pir Chinasi, a popular hill station is 40 kilometres (25 miles) away in the East of Muzaffarabad. The glorifying place lies in the foothill of the surrounding mountains. It is elevated at 2,924 metres (9,593 feet) above sea level. Furthermore it is approachable by an hour of upward journeying through the scenic route, on the metal road. It invites the tourists towards its cool atmosphere, to explore it and to keep in touch with nature.
The tourist season starts from May and ends in September. Whereas the peak months for the recreational activities are July and August. The whole area is surrounded by the snowy mountain peaks. The tourists can enjoy snowfalling even in the summers. It happens if the cold and rainy weather persists for a longer period of time. However it gets nearly inaccessible in winters, due to heavy snowfall. Road blockades may occur because of landslides.
Specification
Pir Chinasi is a perfect tourist spot. This summer resort is quite accessible with all the modern day amenities of life. A tourist lodge of Kashmir Tourism Department and constructed Hotel (Mir Continental Hotel) at Saran are available for accommodation.
Prominence
The valley wins the hearts of the visitors at once with its breathtaking scenery and eye-catching view of the nearby mountains-peaks. There is a Shrine of a religious Sufi Saint Shah Hussain Bukhari. His devotees regularly visit there to pay homage for his services to the people of the area.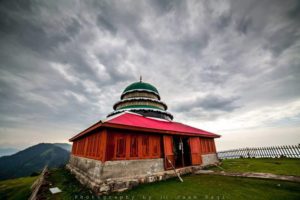 Peer Hassimar, Phawna Da Danna, Saran, Sud-Bun, Mushki, Sakki and Jarran-Phirran are worth visiting spots adjacent to Pir Chinasi. They are quite suitable for hiking, trekking and camping around.
Paragliding
Tourists can enjoy paragliding at Pir Chinasi. Paragliding is a regular feature here, which is held twice in a year. Once at the beginning of the summer season and when the fall season starts.
Route
The road to Pir Chinasi is in good condition and accessible for all types of vehicles including cars, bikes etc. However small card drivers as well as the bikers should be cautious because the road is a bit sloppy. It is a fair weather road and best during springs and the summers. Trekkers and adventure-lovers can enjoy hiking, trekking, nature exploring, wandering in leisure and soulful meditation.
Islamabad < Kashmir Highway < Murree Road < Murree Expressway < Kohala-Muzaffarabad Road < Pir Chinasi Road < Pir Chinasi
Author: Fehmeeda Farid Khan