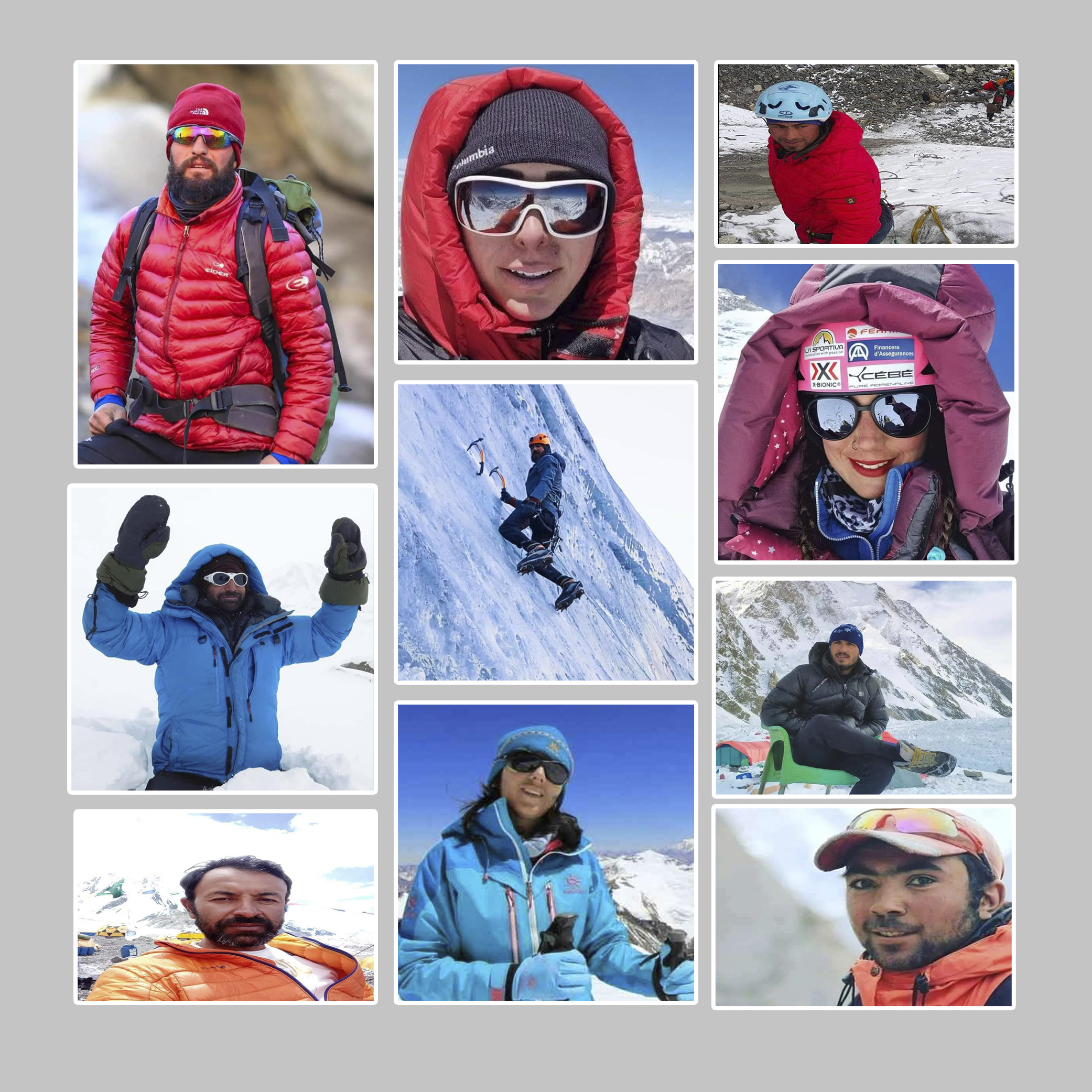 July 22, 2022 Summits
Salient Features
It's record breaking number of summiteers in a year, in a season or on a single day in July.
Samina Baig becomes first Pakistani woman to climb K-2.
Mingma G Nepal, world 1st to 4 summit of K-2.
Ali Durrani (Noorani) Pakistan 3rd summit of K-2, Shared with Fazal Ali Pakistan.
Grace Tseng, Taiwan 29 years world youngest women to scale K-2.
Liliya Ianovskaia of Canada becomes oldest women to climb K-2 at the age of 62.
An Afghan mountaineer, Ali Akbar died of cardiac arrest at camp 3.
Some names of Nepali mountaineers get mixed. Please correct me in case of mistake or missing name.
This article deals with only July 22 Summits.
| | | | |
| --- | --- | --- | --- |
| No. | Climber Name | Country | Status |
| ⁰¹ | Aang Phurba Sherpa | Nepal 🇳🇵 | |
| ⁰² | Angdu Sherpa | Nepal 🇳🇵 | |
| ⁰³ | Abid Asad Sadpara | Pakistan 🇵🇰 | |
| ⁰⁴ | Afsane Hesamifard | Iran 🇮🇷 | First from the country |
| ⁰⁵ | Ahmed Baig | Pakistan 🇵🇰 | |
| ⁰⁶ | Akber Hussain Sadpara | Pakistan 🇵🇰 | |
| ⁰⁷ | Aleksandr Yul | Germany 🇩🇪 | |
| ⁰⁸ | Ali Noorani | Pakistan 🇵🇰 | |
| ⁰⁹ | Anne Faerovig | Norway 🇳🇴 | |
| ¹⁰ | Anthony Middleton | England 🏴󠁧󠁢󠁥󠁮󠁧󠁿 | |
| ¹¹ | April A. Leonardo | USA 🇲🇾 | |
| ¹² | Asma Al Thani | Qatar 🇶🇦 | First from the country |
| ¹³ | Bulbul Karim | Pakistan 🇵🇰 | |
| ¹⁴ | Claudio Javier Beizen | Argentine 🇦🇷 | |
| ¹⁵ | Dawa Dorchi Sherpa | Nepal 🇳🇵 | |
| ¹⁶ | Dawa Gyalje Sherpa | Nepal 🇳🇵 | |
| ¹⁷ | Dawa Ongju Sherpa | Nepal 🇳🇵 | |
| ¹⁸ | Dawa Temba Sherpa | Nepal 🇳🇵 | |
| ¹⁹ | Dawa Wongju Sherpa | Nepal 🇳🇵 | |
| ²⁰ | Dorji Gyeljen Sherpa | Nepal 🇳🇵 | |
| ²¹ | Eid Muhammad | Pakistan 🇵🇰 | |
| ²² | Fahad Badar | Qatar 🇶🇦 | |
| ²³ | Fida Ali | Pakistan 🇵🇰 | |
| ²⁴ | Frank Loke | Norway 🇳🇴 | |
| ²⁵ | Fura Shering Sherpa | Nepal 🇳🇵 | |
| ²⁶ | Gao li | China 🇨🇳 | |
| ²⁷ | Ghulam Abbas | Pakistan 🇵🇰 | |
| ²⁸ | Gina Marie RZucidlo | USA 🇺🇸 | |
| ²⁹ | Grace Tseng | Taiwan 🇹🇼 | Without o2 |
| ³⁰ | Hakon Asvang | Norway 🇳🇴 | |
| ³¹ | He Jing | China 🇨🇳 | Without o2 |
| ³³ | Inayat Ali | Pakistan 🇵🇰 | |
| ³⁴ | Isaac Selby | Canada 🇨🇦 | |
| ³⁵ | Jennifer Lyn Drummond | USA 🇺🇸 | |
| ³⁶ | Jill Wheatley | Canada 🇨🇦 | |
| ³⁷ | John Eva | South Africa 🇿🇦 | First from the country (shared) |
| ³⁸ | Kalden Phura Sherpa | Nepal 🇳🇵 | |
| ³⁹ | Kamdorji Sherpa | Nepal 🇳🇵 | |
| ⁴⁰ | Karma Geljen Sherpa | Nepal 🇳🇵 | |
| ⁴¹ | Krisli Melesk | Estonia 🇪🇪 | |
| ⁴² | Kristin A. Bennett | USA 🇲🇾 | |
| ⁴³ | Kristin Harila | Norway 🇳🇴 | |
| ⁴⁴ | Lakpa Bhote | Nepal 🇳🇵 | |
| ⁴⁵ | Lakpa Tamang Sherpa | Nepal 🇳🇵 | |
| ⁴⁶ | Lakpa Tashi Sherpa | Nepal 🇳🇵 | |
| ⁴⁷ | Lemba Sherpa | Nepal 🇳🇵 | |
| ⁴⁸ | Lhakpa Wongchu Sherpa | Nepal 🇳🇵 | |
| ⁴⁹ | Liliya Ianovskaia | Canada 🇨🇦 | Oldest Woman to climb K-2 at the age of 62 |
| ⁵⁰ | Lina Quesada Guìa de Montaña | Spain 🇪🇦 | |
| ⁵¹ | Llakpa Bhote | Nepal 🇳🇵 | |
| ⁵² | Marie-pier Desharnais | Canada 🇨🇦 | |
| ⁵³ | Mingma David Sherpa | Nepal 🇳🇵 | |
| ⁵⁴ | Miguel Madrid | Australia 🇳🇿 | |
| ⁵⁵ | Mingdorji Sherpa | Nepal 🇳🇵 | |
| ⁵⁶ | Mingma G | Nepal 🇳🇵 | 4th summit of K-2 |
| ⁵⁷ | Mingma Sherpa | Nepal 🇳🇵 | |
| ⁵⁸ | Mingma Tenjen Sherpa | Nepal 🇳🇵 | |
| ⁵⁹ | Mingma Tenzi Sherpa | Nepal 🇳🇵 | |
| ⁶⁰ | Mingtemba Sherpa | Nepal 🇳🇵 | |
| ⁶¹ | Mitra Tamang | Nepal 🇳🇵 | |
| ⁶² | Monikia Witkowska | Poland 🇵🇱 | |
| ⁶³ | Nadhira Alharthy | Oman 🇴🇲 | |
| ⁶⁴ | Naila Kiani | Pakistan 🇵🇰 | |
| ⁶⁵ | Naoki | Japan 🇯🇵 | |
| ⁶⁶ | Nelly Attar | Lebanon 🇱🇧 | First from the country |
| ⁶⁷ | Ngima Tashi Sherpa | Nepal 🇳🇵 | |
| ⁶⁸ | Nima Gyalzen Sherpa | Nepal 🇳🇵 | |
| ⁶⁹ | Nimsdai Purja Nimsdai | Nepal 🇳🇵 | |
| ⁷⁰ | Ningma Dorje Taman | Nepal 🇳🇵 | |
| ⁷¹ | Pam Dorjee Sherpa | Nepal 🇳🇵 | |
| ⁷² | Pasang Namgel Sherpa | Nepal 🇳🇵 | |
| ⁷³ | Pasang Tendi Sherpa | Nepal 🇳🇵 | |
| ⁷⁴ | Pasang Tshering Sherpa | Nepal 🇳🇵 | |
| ⁷⁵ | Par Stefan Isgren | Sweden 🇸🇪 | |
| ⁷⁶ | Pemba Chiri Sherpa | Nepal 🇳🇵 | |
| ⁷⁷ | Pema Chhiring Sherpa | Nepal 🇳🇵 | |
| ⁷⁸ | Pemba Dorchee Sherpa | Nepal 🇳🇵 | |
| ⁷⁹ | Pemba Tanzing Tasi Sherpa | Nepal 🇳🇵 | |
| ⁸⁰ | Pemba Tasi Sherpa | Nepal 🇳🇵 | |
| ⁸¹ | Phur Bahadur Gurung | Nepal 🇳🇵 | |
| ⁸² | Ramesh Gurung | Nepal 🇳🇵 | |
| ⁸³ | Ravi Chandran Malingam | USA 🇲🇾 | |
| ⁸⁴ | Rene Michael Bergsma | Netherlands 🇳🇱 | |
| ⁸⁵ | Rinji Sharpa | Nepal 🇳🇵 | |
| ⁸⁶ | Rizwan Dad | Pakistan 🇵🇰 | |
| ⁸⁷ | Saeed Almemari | UAE 🇵🇸 | First from the country |
| ⁸⁸ | Samina Baig | Pakistan 🇵🇰 | First Woman from the country |
| ⁸⁹ | Sashko Kedev | Macedonia 🇲🇰 | |
| ⁹⁰ | Shah Doulat | Pakistan 🇵🇰 | |
| ⁹¹ | Siddhi Bahadur Tamang | Nepal 🇳🇵 | |
| ⁹² | Sirbaz Khan | Pakistan 🇵🇰 | |
| ⁹³ | Sohail Sakhi | Pakistan 🇵🇰 | |
| ⁹⁴ | Sonam Tashi Sharpa | Nepal 🇳🇵 | |
| ⁹⁵ | Stefi Troguet | Andorra 🇲🇩 | Without o2 |
| ⁹⁶ | Suman Gurung | Nepal 🇳🇵 | |
| ⁹⁷ | Tamting Sherpa | Nepal 🇳🇵 | |
| ⁹⁸ | Temba Sherpa | Nepal 🇳🇵 | |
| ⁹⁹ | Tenji Sherpa | Nepal 🇳🇵 | |
| ¹⁰⁰ | Terray Ellington Sylvester | USA 🇲🇾 | |
| ¹⁰¹ | Tseng Ko-Erh | Taiwan 🇹🇼 | Without o2 |
| ¹⁰² | Tsering Sherpa | Nepal 🇳🇵 | |
| ¹⁰³ | Vladimir Kotlyar | Russia 🇷🇺 | |
| ¹⁰⁴ | Wajid Ullah Nagri | Pakistan 🇵🇰 | |
| ¹⁰⁵ | Wang Zhong | China 🇨🇳 | |
| ¹⁰⁶ | Waqar Ali | Pakistan 🇵🇰 | |
| ¹⁰⁷ | Warren Black | South Africa 🇿🇦 | |
| ¹⁰⁸ | Wasifia Nazreen | Bangladesh 🇧🇩 | |
July 22 K-2 Summits
Gratitude to Moon Baltistani