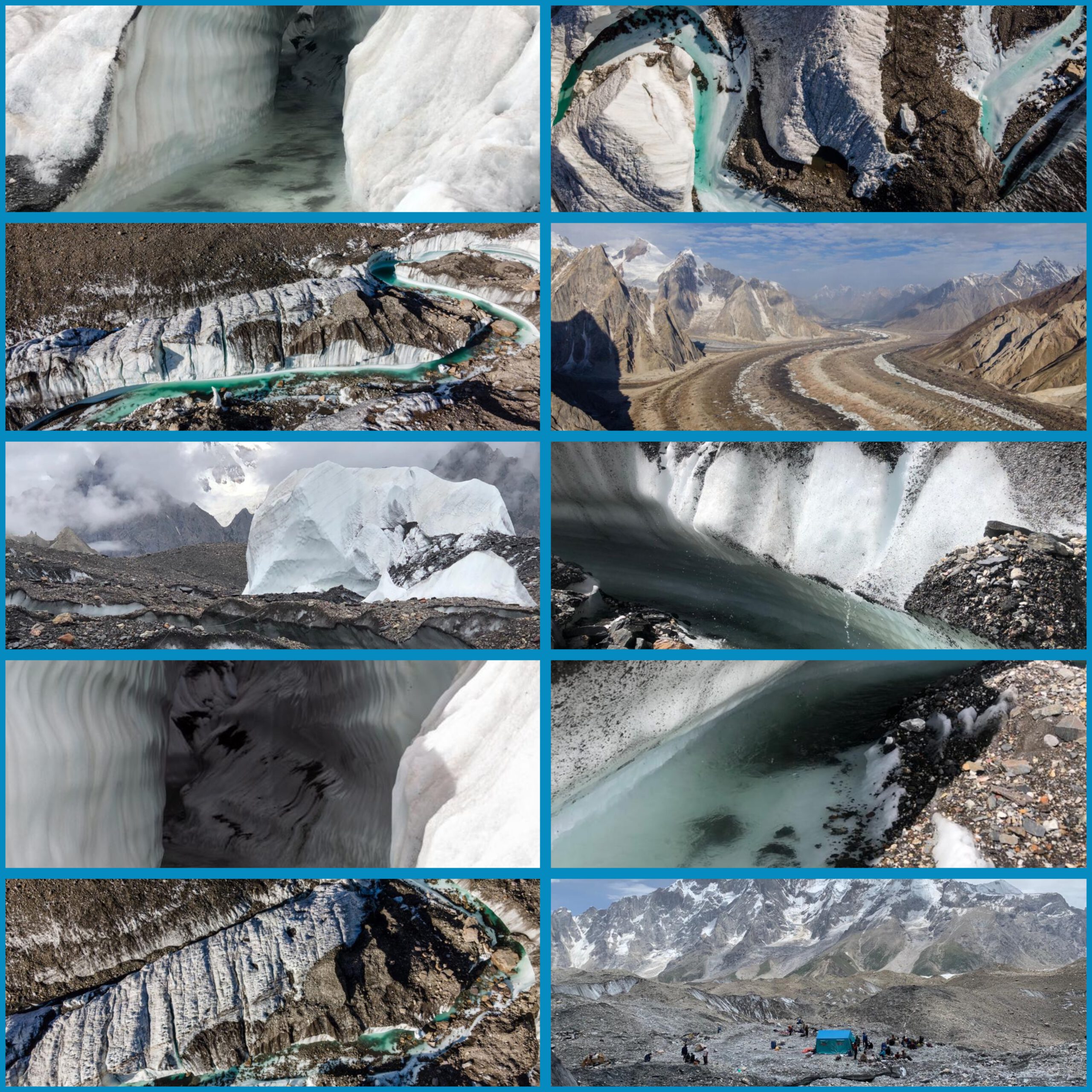 Glaciers in Pakistani
People are unaware that Pakistan is the world's most glaciated country. There are 7,253 known glaciers Pakistan, which together account for the greatest amount of ice found outside of the polar regions.
Northern Pakistan is entirely carved out of ice with valleys, rivers, three of the world's highest mountain ranges such as Karakoram, Himalaya and Hindu Kush.
These glaciers provide irrigation to the local agriculture system and are the lifeline of the entire North of Pakistan. Northerners construct intricate canal system to water crops. They often remove portions of the glaciers for refrigeration. Without the glaciers, there would be no life in the harsh terrain of the North.
.
These all glacies are mainly in Gilgit-Baltistan or Khyber Pakhtunkhwa.The following is a list of some prominent glaciers of Pakistan.
Abruzzi Glacier, Skardu
Atrak Glacier, Chitral
Baltoro Glacier, Shigar
Barpa Glacier, Hoper Valley
Batura Glacier, Hunza
Biafo Glacier, Shigar
Biarchedi Glacier, Biarched Peak
Bilafond Glacier, Siachen
Chiantar Glacier, Chitral
Chogo Lungma Glacier, Shigar
Godwin-Austen Glacier, Skardu
Gondogoro Glacier, Skardu
Ghulkin Glacier, Shimshal Valley
Hispar Glacier, Nagar
Karanbar Glacier, Swat
Karakoram Glacier, Skardu
Kutia Lungma Glacier, Skardu
Miar Glacier, Hoper Valley
Malanguti Glacier
Panmah Glacier, Shigar
Passu Glacier, Hunza
Rupal Glacier, Astore
Sachiokuh Glacier
Sarpo Laggo Glacier, Xinjiang (autonomous region)
Shaigri Glacier
Shandar Glacier
Shani Glacier, Naltar
Shireen Maidan Glacier
Shishpar Glacier
Shuijerab Glacier
Shutwerth Glacier
Siachen Glacier, Hushe
Silkiang Glacier
Sim Glacier
Siru Glacier
Skora La Glacier
Sokha Glacier
South Barum Glacier
Sovoia Glacier
Stokpa Lungma Glacier
Sumayar Bar Glacier
Tarashing Glacier
Thalo Glacier
Thui Glacier
Tirich Mir Glacier, Chitral
Toltar Glacier
Toshain Glacier
Trango Glacier, Shigar
Trivor Glacier
Tsarak Tsa Glacier
Udren Glacier
Uli Biaho Glacier
Ultar Glacier
Upper Khurdopin Glacier
Upper Tirich Glacier
Vigne Glacier GlacierWaniya Glacier
Yermanendu Glacier
Yazghill Glacier
Yishkuk Glacier
Yukshgoz Glacier
Zindikharam Glacier
You may also like Lakes in Pakistan