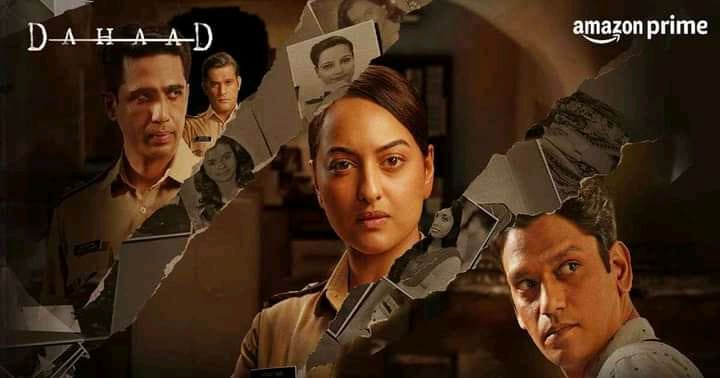 Web Series: Dahaad
Genre: Crime, Thriller
Imdb rating: 7.4/10
My Rating: 7.7/10
Cast: Sonakashi Sinha, Vijay Varma, Gulshan Davaiah, Sohum Shah
Anjali Bhaati (Sonakshi Sinha) along with Gulshan Devaiah & Sohum Shah from Mandava police in Rajasthan investigate a series of deaths where women are found dead in public bathrooms. Prima facie, the deaths appear to be suicides, but as the investigation progresses, Bhaati realises that there's a serial killer on the loose.
There is no suspense here as we come to know the identity of the killer in the first episode. However, it is the cat and mouse game between the killer and the police which makes this an extremely interesting series to watch.
This series is about the famous hot and spicy topic "Intercaste marriage or so called love jihad". Its about the pain of socially low caste people. This about any mother's worry for her daughter's marriage. It's also about a girl's desire to become financially independent. The series is an eye opener for everyone who says any person around us may be a psychopath and we should think twice before trusting any stranger.
From the 6th episode onwards I felt the series stretches a bit too much while trying to capture the killer.
Sonakshi Sinha could be better anyways. Watching Vijay Verma in negative role is a dream comes true.
Vijay Verma steals the show as the smart pyscho killer. What a talent he has! He literally dominates the whole show with his creepy nature.
Overall, definitely a good to watch series.