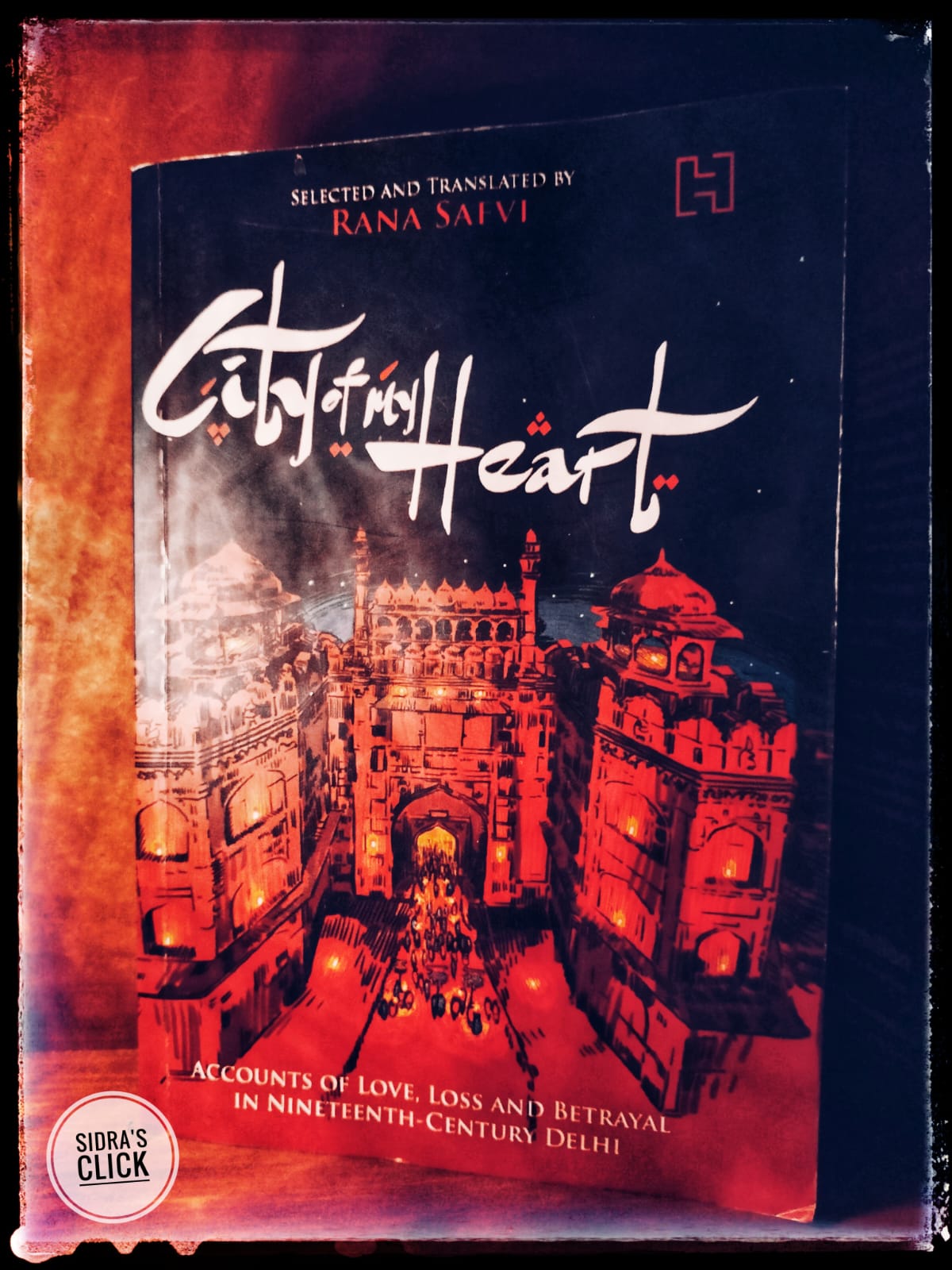 City Of My Heart
Rana Safvi
This book is a selection of accounts on day to day running of mughal royal courts and their levish lifestyle. The era is of the last Mughal badshah Bahadur Shah Zafar and the city is Dilli (Dehli). Rana Safvi has translated the writings of Syed Wazir Hasan Dehlvi, Mirza Ahmad Salim and Khawaja Hasan Nizami.
If you want to escape the present or simply step into a different world, then this book is for you. There is no much glitz and glamour in the royal court like a never ending party. Every month has its own festivals, both cultural and religious will lift up your spirits. The harmony among the common people, the love and respect regardless of religion or ethnicity. That is something long lost. In those days Hindus and Muslims lived and celebrated together. If one was the bridegroom the other was his best man. Now the tide has turned, as the same city has now become a ghost of its former self. It seems to be devouring everyone, one by one.
There are details about Badshah's daily routine. The extravaganza and sheer luxury he enjoyed is fascinating. For the mornings he had maids who were responsible for his towels after bath. Another unit to bring and lay out his wardrobe for the day. He had armed female attendants in the Harem and other guards who were female Abyssinians, Turks and Tartars. Then the divine food, even the breakfast spread was a magnificent feast with numerous items. There was a vast variety of breads, pulaos, desserts, halwa, meat dishes, side dishes, kebabs, relishes and fruits etc. Then the time changed and he was about to recapture. One day he asked one of his staff for food who could only offer him besani roti and chatni. Such was the turn of events from riches to rags.
The royal events describe in a beautiful way you can see it like a film. The majestic elephant convoys. The preparations and entertainment, lavish lifestyle of Princes who were later killed brutally in front of their mothers. Those who could flee were miserable and did odd jobs like dish washing or house servants. The Princesses were always laden with jewels and draped in the finest silks. They were sold in slave markets when the tide turned. That downfall was heartbreaking.
Maybe this was not the scope of this book. But while reading I got an impression that badshah indulged himself in partying most. There is no mention of any court meeting on strategic planning to safe guard the empire anywhere.
This book is a roller coaster ride of emotions. You will experience peace, prosperity and joy of Dilli. Then the pain and brutal side of downfall and ruin.
Although it is a translation of origional scripts, the writer has done an excellent job.
I totally recommend it.
Previous Blog of the same Author I have Lost My Way