Baboon Top
Some places like Baboon allure
Some places live to shine
But some places inspire to galore
Some places live in heart of mine
Yeah, Baboon is a wonderful area that has captured my heart. The lush green meadows with white snowy spots make it a worthwhile visit for those seeking greenery, snow, coolness, and quiet all at once. It is in the Neelum valley, the Heaven on Earth.
Neelum Valley:
Neelum valley is one of Azad Kashmir's most beautiful and intriguing landscapes. Though it is on the list of the most frequented tourist destinations, a few sites remain secret and untouched, and Baboon is one of them.
It takes no more than four hours to go from Islamabad to Muzaffarabad, the capital of Azad Kashmir and the gateway to Neelum Valley. The next target is Kundal Shahi, which is 74 kilometres from Muzaffarabad and can be covered in less than two hours. The trek continues towards Kutton and on to Jagran, where a 36MW hydroelectric project is operational. The road terminates at Khillun after crossing Jagran, and from there a difficult trek to Baboon/Jugshai Top (12,731 Feet – ASL) begins.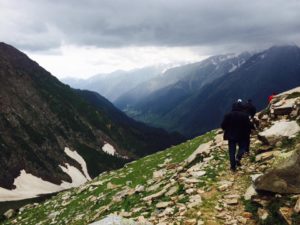 On the other side, there's a four-hour sloppily walked climb to Karka. A Jeep track leads from Karka to Neelum Village, which takes 1.5 to two hours. From Karka, one can travel to Nagdar or Lawat.
Jugshai Gali Pass (Top)
Height 12,731 feet above Sea Level
Latitude: 34.69492166666667
Longitude: 73.81028000000001
Latitude ref: N
Kutton < Jagran < Khillun < Road End at Khillun < Hiking < 3 Hour
Keran , Nagdar < Jeep Track < Jabri Meadows < 2 Hour Hiking
Baboon is a pristine valley and a relatively unknown tourist destination. It will soon become a tourist attraction. In Neelum Valley, there are three (3) Baboons. I intend to write about the other two valleys as well.
However, I request to travellers not to pollute the environment.
Author: Fehmeeda Farid Khan