Roadies:
Roadies is comparatively a new term but the Biker Boyses give it a new dimension. It is quite a different idea of travelling for you and me, because our idea of travelling is limited to roads only; no hiking, no trekking and literally no offroading at all. But for Biker Boyses, it's something absolutely meaningful and unique as they're a bunch of thrilling as well as adventurous Biker boyses.
However a genuine question arises why did I join their group lol, because I am neither a Biker nor off-roader. In fact, I am just a Travelling Blogger, yet Bikerboyses Yasir Rana and Ayaz Muner approached me and graciously requested to join them. In our brief discussion, I astonished at for adopting such an idiosyncratic name "Roadies" and acknowledged the brilliant idea. Afterwards I told my father about this group as well and he also appreciated it.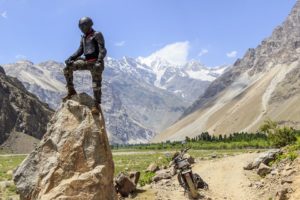 My  Perception:
I instantly decided to write on the Biker boyses, but I couldn't find time to do so. I am apparently doing nothing,  yet my mind remains busy all the time in thinking. So it gets delayed, for the very reason. I couldn't create anything constructive, so I am back to appreciate the successful people like the Biker boyses. It is the least thing, I could do.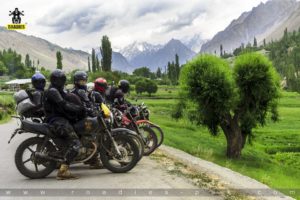 Kick-Start:
Roadies came into existence in 2006, according to its founders. Initially they travel exclusively with a few friends, but soon they expanded their wings. I usually refer them as the Biker Boyses, because they fully deserve it. Roadies is a small organization with hard-working and committed individuals.
♠ Roadies are humble.
♣ They love to travel only on Bikes.
♣ They are travelling enthusiasts.
♣ They are adventurous.
♣ They like off-roading.
♣ They like to explore the unexplored.
♣ They care for friends.
♣ They are thrilling.
♣ Above all they're Roadies, The Biker Boyses.
Author: Fehmeeda Farid Khan