The Location of Tombs:
Chaukhandi tombs is famous graveyard in Sindh. It is 29 kilometres in the East of Karachi, on N-5 National Highway near Landhi Town. Chaukhandi tombs are remarkable for the elaborate and exquisite stone-carving. The architecture of the tombs is typically of Sindhi origin, and unique in the sense that it is found nowhere else in the world. It is an attribute of Jokhio (also Jokhiya), as it is originally a graveyard of family of Jokhio tribe. There are graves of some Baloch tribal heads. The tombs were built between the 15th to the 18th centuries, during the Mughal Era.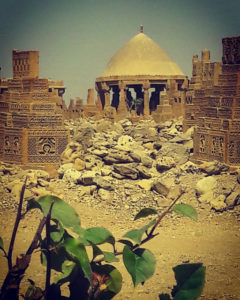 Significance:
"Chaukhandi" is a word of Sindhi language and it literally means "four dimensional shape" or a "four-wall enclosure", with no roof. So in the Sindhi cultural tradition, a wall-enclosure is often a "Chaukhandi". It is a respectable omen, which surrounds the grave of a Saint. Chaukhandi is, therefore not a grave or tomb in itself, but the four-wall enclosure, for the burial of some popular lot. The Scholars get attraction towards the Chaukhandi tombs, in the early 20th century. These are the peculiar graveyards of Sindh and Baluchistan of Pakistan; with an orientation from South to North.
The Structure:
These graves are in fact a sandstone construction and decoration of carving by the exquisite craftsmanship. The graves are either in a single grave shape or in a group. In the group, there are up to eight graves, and raised on the same platform. Their basic sarcophagus has six vertical slabs, with two long slabs standing on each side of the grave. Four slabs are covering the length of the body and the remaining two are vertical slabs along the head and foot side.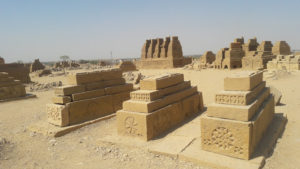 The secondary sarcophagus consists of six more vertical similar slabs, and this size gives the graves a pyramid-like shape. The upper or second sarcophagus is, further covers with four or five horizontal slabs and the top-most or third sarcophagus sets vertically on its Northern side. The end or top of  the toms is a knob, and it manifests as a crown or a turban. The designs of the tombs are mainly geometrical and with motif carvings. The other figures exhibit, mounted horsemen, hunting scenes, ornaments and jewellery etc.
Author: Fehmeeda Farid Khan