Khari Sharif:
Khari Sharif is a popular place of District Mirpur of Azad Kashmir. It lies side by side Mirpur city along the river Jhelum. It is a fertile and agricultural land. Khari Sharif consists of about 80 villages. It is at a distance of 8 kilometres from the city of Mirpur. This place is famous for the Shrines of two renowned Sufi Saints; Peer-e-Shah Ghazi (Qalandar Dumriyana Wali Sarkar) and Mian Muhammad Bux.
Mian Muhammad Bux:
Mian Muhammad Bux was not only a Sufi Saint of Qadria descendant but also a prominent poet of Punjabi and Pahari languages. He is a famous poet, who wrote the legendary folklore "Saif-ul-Malook". Din Muhammad was a Khalifa (desciple) of Dumriyan Wali Sarkar and Mian Shams-Ud-Din was his Khalifa (Desciple). Mian Shams-ud-Din had three sons, namely Mian Bahaval Bux, Mian Muhammad Bux and Mian Ali Bux respectively. The ancestors of Mian Muhammad Bux migrated from Gujarat, Pakistan to Mirpur, Azad Kashmir. They settled down in the Khari Sharif. He belonged to the Gujjar Tribe and his clan was Poswal. "Poswal" is derived from an Arabic word "Boswal", which literally means "one who asks questions".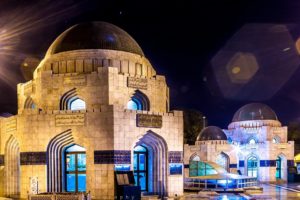 Saif-ul-Malook:
"Saif-ul-Malook" is a masterpiece by Mian Muhammad Bux. It is the tale of a Prince who fell in love with a fairy called "Badi-U-Jamal" whom he saw in his dream. When he awoke, he instantly went out for searching for her. It is beginning of the journey of exploration, spirituality, piety and above all the salvation. It is originally a series of chronicles of his mystical journey. Initially it was merely a search for his belove the fairy but soon it led him to the spiritual revelation.
Saif-ul-Malook is a piece of pharsal lyrics, which indebted the inner-most sentiments of Mian Muhammad Bux which reflect through his poetry. It is the narration of the man immortal. It starts from the manly love (Ishq-e-Mijazi), which turn into the ultimate destination; the love of God (Ishq-eHaqeequi). People read it with appreciation. The name of Mian Muhammad Bux is quite renowned all over Azad Jammu & Kashmir and Pakistan. A Council is working for the promotion of the poetry of Mian Muhammad Bux and particularly for the Saif-ul-Malook.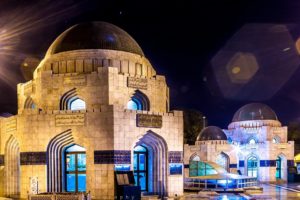 Accessibility:
Khari Sharif is eight kilometres (4.97 miles) away from Mirpur, Azad Kashmir. Best season to visit Khari Sharif is from September to April. It takes about two hours to reach there from Islamabad, Pakistan. The road which leads to the place is metal and its condition is quite good. Accommodation facilities are available. The route to acces Khari Sharif is mentioned below:
Islamabad > Mandra > Gujjar Khan > Sohawa > Dina > Mangla > Mirpur > Khari Sharif
Author: Fehmeeda Farid Khan