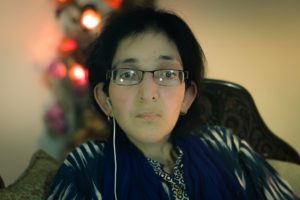 The story begins with my birth, in a small village of District Jhelum Valley (formerly Hattian Bala) of Azad Kashmir. I was born with limb deformity or Club-Foot (Congenital Talipes Equinovarus). It must be an unusual phenomena or shocking news for the people around, so they rushed to see me. After relieving from their earlier horrifying state, they tried to embarrass my parents of the bitter and dreadful perspectives of the upcoming life as a PWD. But my father however didn't pay heed to anyone of them in this regard because his top priority was my treatment, so that I could spend a healthy life ahead. He kept on searching for a competent orthopedic surgeon to whom he wants to discuss my case.
The efforts of my father succeeded within no time and I was merely three days old, when my left foot was operated upon. It was preceded by three more major surgeries, on the same foot but all the hopes burnt to ashes. Unfortunately, all the hopes burnt to ashes due to these failed attempts and it was likely that I could neither stand up nor walk, whole of my life.
My schooling started at the age of two and from there upon I never looked back. I did masters in Economics, an MA in English and B.Ed.
When my practical life begins, a new door to a new but a different world opens. It unveils the real nexus of the cruel faces of the society. I then come to know the real agony and pain of sheer rejection, at the hands of sham champions of the so-called social, religious and moral ethics. It was a clear indication that there's no place for PWDs in the world of the fittest.
The idealistic image of the fantasy world of mine was badly shattered. My personal identity was at stake, as the only cause of rejection was my "disability". My education, my skills and my intelligence, all seem quite worthless. It could have been more devastating and had worst effects upon me, if my family and friends didn't come forward to stand-by me. They keep on encouraging me by all means, so that I could be an enthusiastic and ambitious person again. Since I am a born motivator and a social worker, I diverted my whole attention towards delivering positive image of the life.
I used to write and translate excerpts for my friends from my school days, so my brother conceives an idea of creating a blog for me. By the grace of ALLAH SWT, now FFK Blog is quite a popular website among the tourists and educationists. People come to give me a piece of advice after reading my blogs. They even suggest me topics and places to write on. They generously provide me of relevant data and pictures to use in the blogs. I have upgraded my website and added many different features in it. Now I write articles on Disability, Education and Environment.
I am fond of reading books and novels; enjoy knitting and crochet in my leisure time. I am a writer, a poetess, a social worker, a social mobilizer, a motivational speaker, a translator, a content writer and a tour consultant as well.
The life still goes on and I am still determined to accept new challenges of life. There are always so many noble and respectful people around me, who extend their helping hands with generous heart, despite the ugly face of life. They always try to keep me motivated and encourage me to see the brighter side of the picture.
I have firm belief in ALLAH SWT that He won't let me down ever.