Kalam Valley:
Kalam, Utror and Ushu are the sub-valleys of Swat and consider as heaven on the earth in the dictionary of the tourists. Kalam is at the distance of 99 kilometer (62 miles) away from Mingora city of Swat. It is the Northern part of the upper Swat valley and Suvastu (Swat) river flows side by side it. It is the part of Khyber Pakhtunkhwa Province of Pakistan.
The green and serene valley is lying along with the lofty hills and thick forests. Mesmerizing beauty of it catches the attention of the tourists. Its magnificent lakes, lively meadows and meandering waterfalls make it worth-wandering place. It is the birth place of Suvastu river and it is on the conflux of its two major tributary rivers; the  Gabral river and the Ushu river.
Kalam is a vast sub-valley of Swat which is at an elevation of about 2,000 meters (6,562 feet) above sea level. Since it provides an access to the small but a fertile plateau of the river Swat which is an ideal place for farming therefore it is lovely area. The metal road ends near Kalam and from there a shingled road leads to the Ushu and Utror valleys of Swat. Tourists can see the snowy peaks from the Matiltan valley, which includes Falak Sair Mountain (height: 5,918 meters/19,416 feet) and an unnamed peak of 6,096 meters (20,000 feet) above sea level.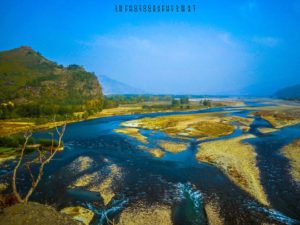 Ushu Valley:
Ushu Valley constitutes of some beautiful parts of the Swat valley. It is in the North-East of Kalam valley. Ushu valley is at a distance of 8 kilometers (5.0 miles) from Kalam and 123 kilometers (76 miles) from Saidu Sharif city. It is at the elevation of 2,300 meters (7,546 feet) above sea level. Because the metalled road ends from Kalam consequently the valley is accessible only by the jeeps.
Matiltan:
Matiltan lies next to Ushu valley and located about 11 kilometers away from Kalam. It is famous for its huge glaciers, thick forests and sky-high mountain peaks. The highest peak of the Swat valley is Falak Sair which can also be seen from this Valley.
Gabral:
Gabral is another fascinating hill station of valley and located at a distance of 20 kilometers (12 miles) from Kalam. It is famous for its brown trout (fish), thick lush-green forests, musical springs, home of highest snow-capped peaks of the valley and beautiful lakes.
Lakes in Kalam:
Kalam has numerous of alpine glacial lakes; among the most famous ones are Mahudand lake and Kandol lake because of their scenic beauty and easier level of accessibility. Izmis lake is located near Kandol lake; which is a marvellous lake with wonderful landscape and it is accessible through trekking only.
Mahodand Lake (Lake of Fish) is one of the largest and the most fascinating lake of Swat valley. It is located in the Ushu valley, at a distance of about 40 kilometers from Kalam. The lake is accessible by a four-wheel vehicle. It is a good fishing point which is ideal for boating and camping. The lake is surrounded by the snowy mountain peaks, lush green meadows and thick forested areas.
The Kandol lake is another charismatic lake of the valley and located in the North of Utror and located at a distance of 19 kilometers from Kalam. It lies in the foothill of Hindu-Kush mountain range and accessible through Ladu valley; by four to six hour trekking.
Author: Fehmeeda Farid Khan