Baboon Top:
Some places live to allure
Some places live to shine
Some places inspire to galore
Some places live in heart of mine
And yes, Baboon is such a fascinating place, which has stolen my heart. The meadows in lush green with white snowy patches makes it a worth visiting place for the people who want greenery, snow, coolness and serenity at a time. Baboon is not a faraway place, it's in Neelum Valley, the Heaven on the Earth.
Neelum Valley:
Neelum Valley is the most magnificent and captivating valleys of Azad Kashmir. Though it is in the list of the most visited places by the tourists, yet a few spots are still hidden and unexplored, Baboon is one of them.
If one starts a journey from Islamabad, it takes maximum four hours to reach Muzaffarabad, the capital of Azad Kashmir and gate way to Neelum Valley. The next destination is Kundal Shahi, 74 Kilometres away from Muzaffarabad and this distance can be covered just within two hours. The journey continues towards Kutton and going ahead to Jagran, where a Hydroelectric Project of 36MW is functional. After crossing Jagran, the road ends at Khillun and from there upon a steep hiking starts towards Baboon/Jugshai Top (12,731 Feet) above sea level.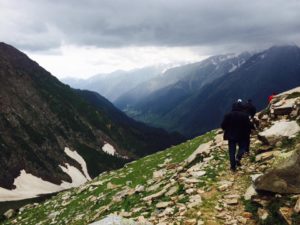 On the other side, there's a sloppy trekking toward Karka, which takes four hours. From Karka a Jeep track leads to Neelum Village, timing 1.5 to two hours. One can go to Nagdar or Lawat from Karka.
There are a few quick facts about Baboon:
Baboon Top/Jugshai Galli Pass
Height 12,731 feet above Sea Level
Latitude: 34.69492166666667
Longitude: 73.81028000000001
Latitude ref: N
Kutton < Jagran < Khillun < Road End at Khillun < Hiking < Baboon < 3 Hour
Keran , Nagdar < Jeep Track < Jabri Meadows < 2 Hour Hiking < Baboon
Baboon is a virgin valley and quite an untouched tourist destination. It will soon become a tourist hub.
But tourists are requested to refrain littering.
Author: Fehmeeda Farid Khan