Arrang Kel:
Azad Kashmir is truly considered a heaven on the face of the Earth and Arrang Kel is its jewel. It is just 3 kilometres (1.9 miles) from Kel valley. Its elevation is 8,379 feet (2,554 metres) above sea level. The distance of Kel valley from Muzaffarabad (capital of Azad Kashmir) is 155 Kilometres (96 miles). The altitude of Kel is 6,880 feet (2,097 metres) above sea level.
Location:
Kel is a sub-valley of the Neelum Valley and it lies parallel to the Line of Control (LOC), the momentary border between India and Pakistan. A road leads to the valley, till Taobat which is the last village of Azad Kashmir. Though the road is in good condition, however it is good to take precautionary measures. Furthermore the prior knowledge of weather forecasts and road condition etc. before going to travelling is a must. Since it is a hilly area, therefore it is prone to landsliding even in the summers, especially in the Monsoon season. Moreover it is an elevated place, so is likely to get a significant snowfall during the winters, which can cause the temporary road blockade.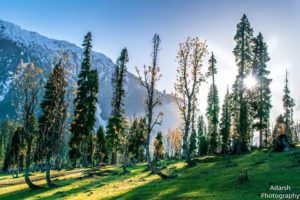 Arrang Kel is a charismatic, fantastic and majestic village, stretches in a sophisticated valley. It is a summer Hill Station and a breathtaking tourist place. The village of Arrang Kel is reachable through a trek from Kel which takes about two hours to get there. It is also accessible by a lift, which takes just a few minutes to reach there.
It is jungle valley and nature bestows upon it generously with the thick forests, rare species of wild animals, lofty trees, green grass and meandering treks, which enhances the beauty of its landscape manifolds.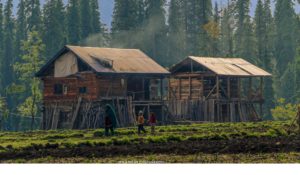 Transport and Accommodation:
Public and private transport is readily available up to Kel. Accommodation facilities including Musk Deer Resort, provide a magnificent retreat for the tourists. All the amenities of everyday life are easily available at such a remote place.
There is suggestion for the tourists, to take a plenty of water bottles and packets of snacks on the trek, because water is not easily available there. There is a canteen on the top, which provides various types of refreshments and beverages.
Logistic Support: Adarsh Farid Khan
Author: Fehmeeda Farid Khan